Are you looking for a unique way to spend time with your special someone? Why not treat yourselves to a couples massages Lubbock? Not only will it help to relax your mind and body, but it can also be a great bonding experience. In this post, we'll go over the top reasons to go for a couples massage in Lubbock and what to expect. Read on to find out more!
What is a Couples Massage?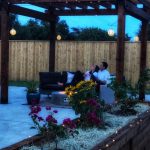 A couples massage is a shared massage experience that allows two people to enjoy the massage together in the same room. At Luminous You Massage in Lubbock, TX, couples can choose from a variety of different massage options, including relaxation and therapeutic massage. Couples can also choose to add special touches like aromatherapy or hot stones to their massage. No matter what services you choose, couples massages at Luminous You Massage are sure to leave you feeling relaxed, refreshed, and reconnected with your partner.
Couples massages can help reduce stress, tension, and promote relaxation for both partners. Luminous You Massage in Lubbock offers a relaxing couples massage which includes soothing music, calming aromatherapy, and a variety of massage techniques like Swedish, deep tissue, and sports massages. They also offer hot stones, facials, and other spa services, so you and your partner can enjoy side-by-side treatments that help you both look and feel your best. Whether you're looking for a romantic night out or a way to reconnect with your significant other, a couples massage from Luminous You Massage in Lubbock is sure to be a memorable experience.
Tips for Choosing the Right Massage Provider
When choosing a massage provider in Lubbock, it's important to look for licensed professionals with extensive training and experience in couples massage. If you're in Lubbock, Luminous You Massage is an excellent option. The staff at Luminous You Massage is highly trained in providing couples massages, and they understand the unique needs of each couple. They use the latest and most effective techniques to ensure a relaxing and enjoyable massage experience, customized to the individual needs of each couple. So, if you're looking for a great couples massage in Lubbock, Luminous Massage is the perfect choice.
It's also important to consider the type of massage offered, as well as the atmosphere of the spa or clinic, when it comes to couples massages in Lubbock. A relaxing atmosphere is key to ensure that you get the most out of your massage experience. It's also important to do some research on the types of massage offered, such as Swedish, deep tissue, hot stone, and more, to make sure that you get the massage that best fits your needs. Doing research beforehand can ensure that your couples massage experience is perfect and enjoyable.