ACE Massage Cupping Body Treatment VS. Stationary Cupping
Luminous You offers both Traditional Chinese stationary cups which are placed over a troubled area for 5-15 min during your session helping with trigger point release. This will usually result in a mark often referred to as a "cup kiss"…this is not the same as a bruise…and will usually go away the same day or a day or two later.
We also offer an ACE Massage Cupping body treatment by a Certified ACE Massage Cupping Practitioner.
applying liniments and analgesics the Massage Therapist will then glide the cups over the body part being treated. This can even be used on the face for facial rejuvenation! The cup suction level can be light or heavy depending on what the client is needing.
What's the difference between Traditional Chinese Cupping & ACE Massage cupping?
Chinese Medicine Traditions use stationary cups to focus on certain areas of the body to disperse internal heat or to move stagnant blood and chi based on your diagnosis. More traditional cupping therapies focus on respiratory conditions, pain relief and many other conditions for people of all ages.
ACE Massage Cupping therapies is a more useful tool for healthcare practitioners. Applying oils and lotions to give it a smoother movement before applying the cups, in this way your entire back including middle and lower, neck, shoulders, sacral area, hips and thigh areas can be treated. You can get a response from almost every part of your body through this treatment.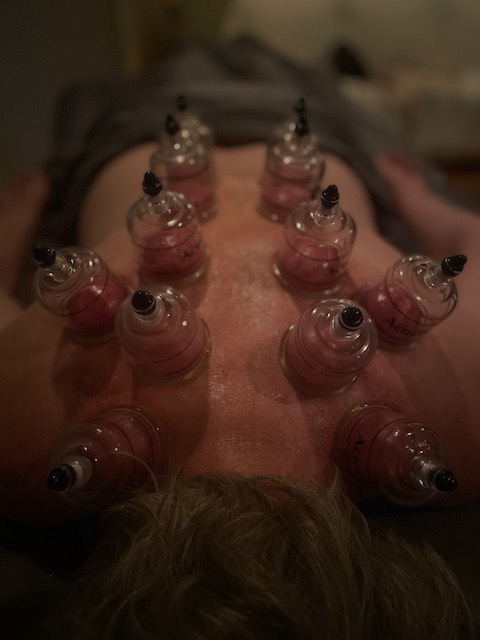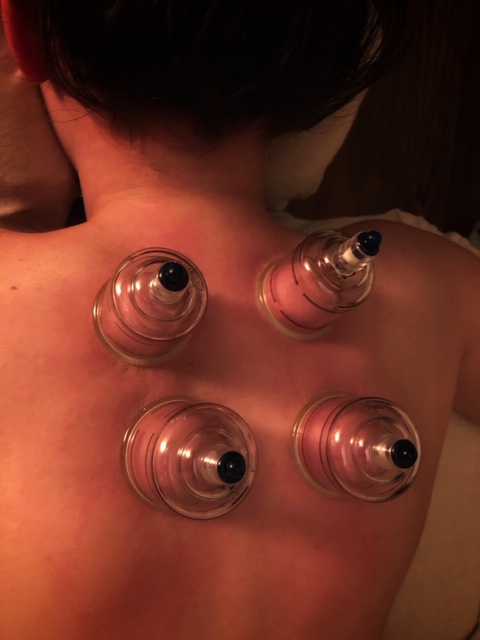 How does ACE Massage Cupping therapy feel?
People usually say they end up in a deep state of relaxation, the action of it can feel sedating to your nervous system like your body is coming alive. You can feel ease of movement all over your body with tingling sensations and deep warmth long after the treatment has been performed.
Why should I request ACE Massage Cupping?
ACE Massage Cupping can treat conditions like Edema, Fibromyalgia, Cellulite, Colon Disorders, Sports Injuries, Nervous Tensions and many more. This treatment has also been able to make its results last longer than most other treatments like it and can lead to resolving a long-term physical issue you may have. ACE Massage Cupping uses the edge of the cup in a "scooping" fashion in a coss fiber movement, Vigorous circular motion on your hips, Long strokes down the spine and rib cage, Reverse friction technique to soften scar tissue ALL resulting in your body feeling brand new. 
Can ACE Massage Cupping result in discoloration?
Unlike Traditional Chinese Massages leaving a more "marked" difference in colorization, ACE Massage Cupping therapy rarely makes this discoloration or "Cup Kiss" on your skin. If discoloration does appear it is just a visible representation that the treatment has done its job by releasing some intense stagnation to that area. The discoloration may look like bruises but are not and will dissipate anywhere from a couple of days down to a few hours after the treatment.  
Is ACE Massage Cupping therapy safe?
To get maximum results safely you need the proper training, a Certified ACE Massage Cupping Practitioner or (CAMCP), is required to take 22 hours of Workshops, educational videos and books to be fully trained in this field. ACE Massage Cupping is safe for all ages from children to the elderly. More gentle therapy is used on children, elderly, people with diabetes or on blood thinners. After treatments it is important to stay out or very hot or very cold areas and stay hydrated. Letting your practitioner know of any conditions you may have must be taken into consideration. A common misuse of ACE Massage Cupping is of course overuse of this treatment, being an intense therapy the impact it has on your body is significant and should be done frequently at your own discretion.
Free Add-on Services for Your Session
Please Request when Booking Appointment
After your relaxing massage, we use the hot rocks on the muscles that have been worked. If you enjoy the heat, this is a very relaxing addition. We incorporate the hot rocks into your massage without you having to choose between hot rocks or your massage therapist massaging you with their hands. Learn More >
Sinus Treatment Massage
With all the wind in West Texas, this sinus massage is a must! A hot eucalyptus or peppermint towel (please specify when you book your appointment) is applied to the face. We then massage the sinus points on the face and down into the scalp.
Carpal Tunnel Massage
Having carpal tunnel pain? With this addition, we incorporate ice packs and Bio Freeze as we massage the forearms and hands deeply. This will do wonders to loosen up the muscles that are pinching the nerve.
Bamboo Roll
Using a large moon bamboo pole, we roll your legs for deeper pressure. This is good for clients who may be athletic.

Call for Availability or Book Online
Sunday 9am – 6pm
Monday – Thursday 9am – 9pm
Friday 9am – 4pm
Saturday Closed
Call us today to schedule your next massage.