Facials & Waxing in Lubbock
Oxygen Infusion Facial
This therapeutic-action treatment enhances cell respiration while brightening and hydrating the skin. High-pressurized oxygen and vitamins are sprayed onto the skin along with a formulated gel mask to target skin-specific needs. Oxygen infusion helps to deliver active ingredients deep into the skin. Which will boost collagen production, improve skin texture, and leave you with a radiant complexion.
Price – $150.00
Signature Facial
The Signature facial is a customized treatment that includes cleansing, exfoliation, extractions of impurities, mask application, and hydration, all chosen to suit your skin's unique requirements. This relaxing facial includes a light shoulder massage which is perfect for those seeking skincare benefits but also a pampering experience.
Price – $100.00
Mini Facial
This is a quick cost effective way to refresh the skin. This 30 minute treatment focuses on cleansing, exfoliating, and moisturizing the skin. They are suitable for people with busy schedules or those looking for a brief skincare pick-me-up.
Price – $50.00
European Facial
The entire European facial is devoted to the overall health of your skin. It provides a thorough deep cleansing and extracting of the pores along with exfoliation and hydration. This facial improves tone, texture and appearance making it a great choice for anyone battling acne or any other specific skin issues.
Price – $75.00
Gentleman's Facial
Gentlemen's facial addresses unique skincare needs such as ingrown hairs, roughness, sensitivity, dullness, and razor burn. Specific skincare will be customized during your facial to give you healthy refreshed skin.
Price – $100.00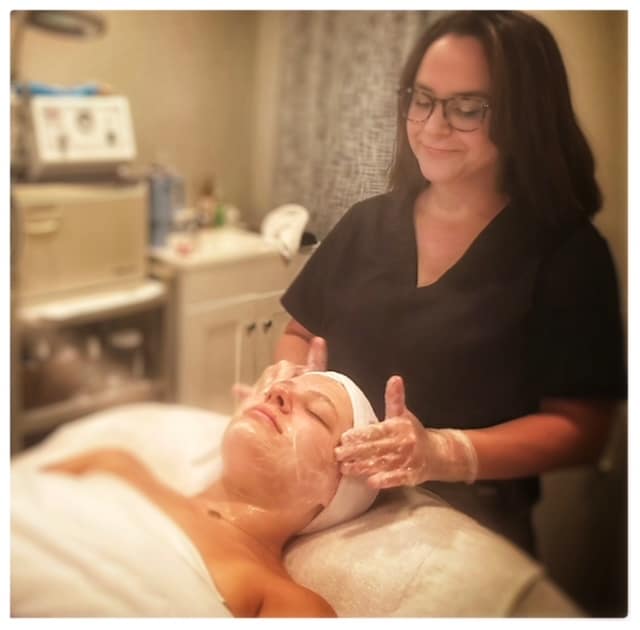 Dermaplane Facial
This is a non-invasive skincare treatment that exfoliates not only dead skin but also removes peach fuzz. The dermaplane facial gives immediate results, with smoother and brighter skin visible right after the treatment. This luxurious facial includes high-quality skincare and will leave you glowing for weeks. Complimentary brow wax is included in this facial to perfect a flawless look.
Price – $120.00
Crystal Microdermabraision Facial
The Crystal Microdermabrasion gives a deep exfoliation and is minimally invasive. This machine blows tiny crystals onto the skin while simultaneously suctioning dead skin cells and unclogging pores. It has been described as a tiny sand blaster that renews overall skin tone and texture. It can help improve the appearance of skin affected by sun exposure, wrinkles, acne, and other conditions. Also great for increasing blood flow and circulation that boosts the production of collagen and elastin.
Price – $115.00
Acne Chemical Peel
Chemical peel specifically designed to target and treat acne related issues, including clogged pores, inflammation, and scarring. An aftercare kit is included with this treatment to nourish, hydrate, and protect your skin post peel.
Price – $100.00
Back Facial Treatment
Just like a traditional facial, this treatment involves a series of steps to cleanse, exfoliate, extract impurities, and hydrate the skin on your back. This treatment benefits those who experience issues like back acne, uneven skin texture, scarring, or dryness on their backs.
Price – $100.00
Lymphatic Drainage Facial
A specialized technique designed to improve the circulation of lymphatic fluid in the face, neck, and chest. It involves gentle cupping and massage that aim to reduce fluid retention, eliminate toxins, and promote overall skin health. This facial can help reduce puffiness, sinus congestion, and detox the skin from impurities.
Price – $135.00
Glycolic Peel
This treatment involves the application of a glycolic acid solution to the skin to exfoliate the top layer of dead skin cells. This process will unclog pores and reduce acne breakouts. It's also a great anti-aging treatment that stimulates collagen and lightens hyperpigmentation.
Price – $60.00
Chest/decolletage Facial add-on
Price – $30.00
Oxygen/Mask Add-On
Add a refreshing stream of high pressurized oxygen, vitamin infused serums, and a gel mask that will target your specific skincare needs. This will enhance circulation, skin hydration, and radiance.
Price – $25.00
Brazilian Wax (Female)
$70.00
Call for Availability or Book Online
Sunday 9am – 6pm
Monday – Thursday 9am – 9pm
Friday 9am – 4pm
Saturday Closed
Call us today to schedule your next massage.